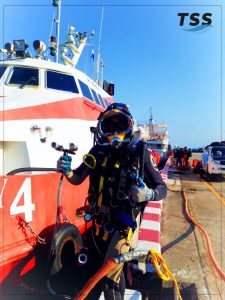 We are the exclusive subsea ship services company in Thailand. With over 30 years combined experience in the industry we are ready to show you why we deserve the title of #1 Subsea Service Provider in the nation.
Our highly trained staff members are professionally qualified, comply (and exceed) international industry standards making us one of the highest qualified companies in Thailand.
Our head office is located in Pattaya, Thailand, near the largest port in the country but our excellent services are available nationwide, from the most frequented to the more out-of reach approaches: Bangkok, Laem Chabang, Koh Si Chang, Map Ta Phut, Rayong, Ranong, Phuket, Songkhla and more!
Accredited certifications held:
CSWIP (3.1u – Inspection Diver)

CSWIP (3.2u – Inspection Diver)

CSWIP (3.4u – Inspection Controller)

ACFM  (Inspector – Level 1)

ACFM (Inspector – Level 2)

HSE – (Wet Bell/ Closed Bell Diver)

DCBC – Unrestricted Surface Supplied Diver

IMCA – Diver Medic Technician

CWB – Canadian Welding Bureau Welder

AWS – American Welding Society Welder

TWI – The Welding Institute – Accredited Weld Inspector  

Class NK – Approved In-Water Survey Provider

DNV-GL – Approved In-Water Survey Provider

ABS –  Approved In-Water Survey Provider

BV – Approved In-Water Survey Provider

Lloyd's Register – Approved In-Water Survey Provider