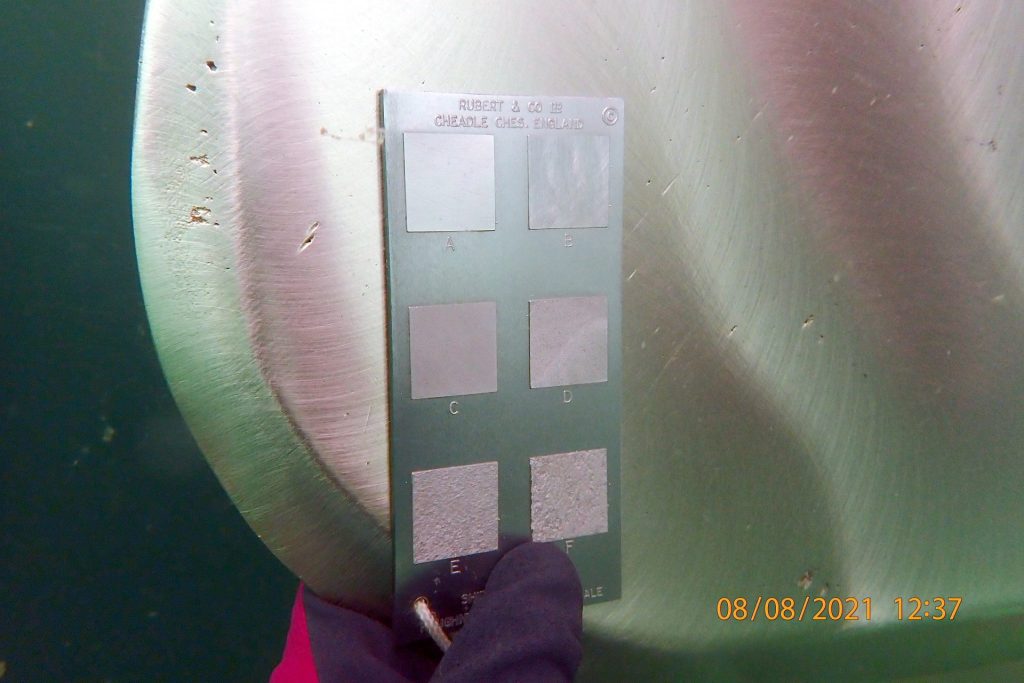 Propeller Polishing Services
Propeller polishings play a crucial role in removing unwanted biofouling from your vessel's propeller  assemblies and should be included as an integral part of your ship's underwater maintenance program. To ensure that polishing was precisely cleaned, Rupert scale is the tool and worldwide accepted standard instrument for measuring and recording the roughness of the propeller blade. This is a very subjective measurement technique but the only one economically available since most propeller blades are fabricated from non-ferrous metals and are completely submerge underwater
Unmaintained propellers can affect the power and speed of your vessel by up to 5 percent! 
In an effort to maintain peak performance, minimize fuel consumption and maximize vessel efficiency, we recommend that propellers be cleaned every three months to six months.
Additionally, following an adequate propeller polishing procedure is critical in achieving high-level results. At TSS we use a "multi-layered" propeller polishing procedure and state-of-the-art power tools with customized polishing pads to ensure the best results.
Our professional divers offer top-quality propeller polishing services at competitive rates. All propeller polishings executed by Thai Subsea are to Rubert Grade "A" smoothness level (<0.65 microns).
Our polishers are specially designed for the cleaning and polishing of all styles and varieties of propellers and their unique components with maximum efficiency. Overall, the removal of biofouling and the smoothening of inconsistencies prevent energy losses,  turbulence, and additional stress on auxiliary shafts and engines.
Thai Subsea Services helps you keep your ship's underwater components well-maintained to minimize friction and ensure that the propellers operate at optimum efficiency and flow. Additionally, Thai Subsea complies in wielding Rupert Scale, particularly on post-cleaning to visually evaluate the surface roughness of propeller blade and to evidently show how smooth is smooth.
Avail our free inspections and sea chests cleaning with every propeller polishing.
TSS – Let us ensure your smooth sailing.
Get a free quote now!