Underwater Ship 

Maintenance 
Hull Cleanings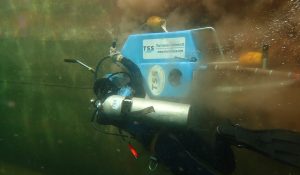 Fuel consumption constitutes the largest operating costs for modern vessels today, making hull cleanliness and efficiency an absolute top priority for ship owners and operators.
Even mere millimetres of marine growth build up can end up adding thousands of dollars of wasted fuel consumption.
We at TSS pride ourselves in providing quick but thorough hull cleanings with minimal coating loss. We are committed to "protect your coating" using the state of the art Piccard™ Triple Head Brush Kart with a combination of specially chosen brushes to suit your vessel's needs.
Propeller Polishings
Additionally, to ensure fuel costs remain as low as possible, a propeller polishing is another essential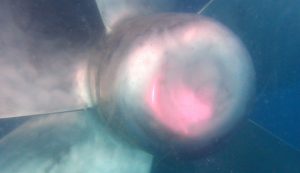 part of your ship's underwater maintenance plan.
We at TSS utilise high quality, multi-stage propeller polishing procedures obtaining Rubert "A" smoothness levels with every polish.
Class Approved In-Water-Surveys
Underwater Inspection in Lieu of Dry-Docking (UWILD) or In-Water-Survey (IWS) is an accepted alternative to the conventional dry-docking methodology. This allows divers to conduct these inspections during normal vessel cargo operations, drastically reducing vessel downtime, wasted travel and expensive dry-docking costs.
Our company is approved by the major international classification societies (IACS) to conduct these inspection on all ships types including Mobile Offshore Drilling Units (MODU) such as jack-up rigs and semi-submersibles.
Additional 

Ship 

Maintenance 
Sea-chest/ discharge cleanings and plugging
Impressed current and sacrificial anode replacements
Entanglement removal
Wear down measurements
Marine growth and biofouling assessments
Photographic inspections
Transducer change-outs
Underwater Ship Repairs
Ships are our specialty! We are more than capable of handling wide ranges of ship repairs, from routine work to more technical solutions. So, whatever your needs or budget may be, Thai Subsea Services Ltd. has you covered!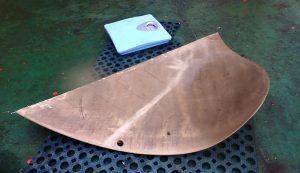 Our ship repair services include:
Certified welding and fabrication
Leak management
Doubler plates, hull insertions and underwater welding repairs
Rope guard repairs and installations
Propeller cropping and straightening
Customised cofferdam construction and installations
Crack stopping and profile grinding