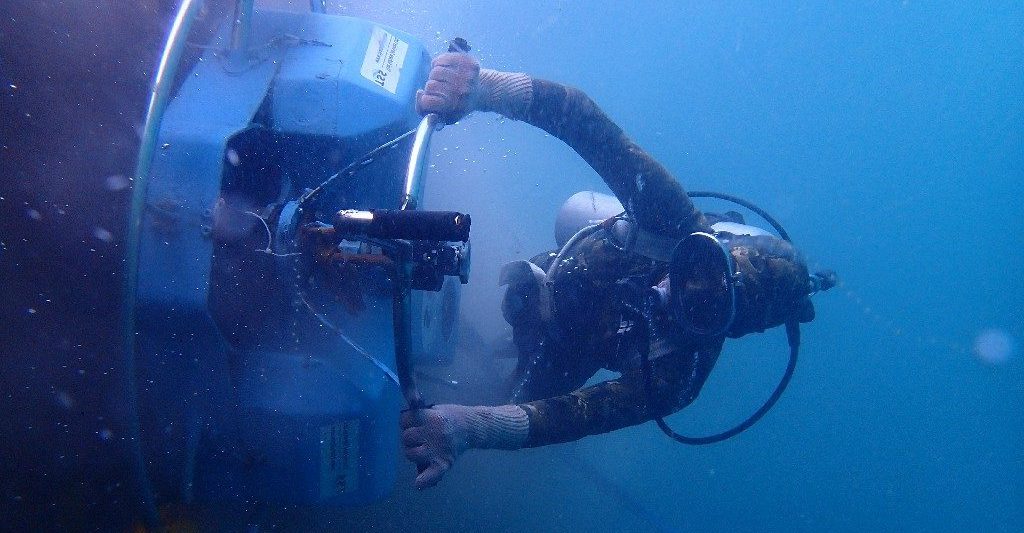 Thai Subsea Services Limited
Your #1 underwater service provider in Thailand
Underwater Ship Husbandry
Quality Hull Cleanings
Class Approved In-Water Surveys
Rapid and Efficient 24/7 Support
Why Choose the #1 Diving Company in Thailand?
Take it from us, being on top is not easy! But through sheer resilience and a lot of dedication, our commercial diving company has worked tirelessly to achieve the moniker of the #1 diving company in Thailand.
Here's Why:
We're Good: Equipped with an immensely talented team, we have the capability and capacity to take on any challenge thrown at us.
We Care: We are a 'full-service' company, meaning we make every effort to ensure a seamless, worry-free relationship with each one of our clients, partners, and vendors.
We're Professional: We stand out against the competition as the only company nationwide to utilize official Piccard™ Brush Kart underwater cleaning systems – Only the best for your vessels! 
Our hard work and high quality have been paying off as we continue to add to an extremely satisfied client base.
 Come join them!
Thai Subsea Services – We get you back offshore FAST!
Rapid and Efficient Support
24 hour rapid and cost-effective ship servicing all over Thailand.
Our dive teams are on constant standby, waiting to serve you at a moment's notice.
All of our commercial diving systems can be mobilized and transported to meet your vessel anywhere in the nation. Competitive Prices
We guarantee low prices. We will match and beat all like quotations for any subsea jobs – guaranteed.
For even greater savings book our complete Hull Cleaning Package our hands-down best seller. It includes immaculate underwater cleaning of your vessel's shell plating, appendages, propeller, and sea chests as well as a detailed inspection of your vessel, all completed in a timely fashion.
Inclusive Services
All our cleanings include a complimentary subsea inspection of your ship, conducted by a certified inspection diver.
We can immediately highlight any areas of concern and provide on-the-spot solutions for our customers, bringing a higher level of service over our competitors.

Most Experienced and Qualified Divers Nationwide
TSS staff members are professionally qualified, complying, and often exceeding international industry standards.
Our underwater diving and cleaning teams are highly adaptable and can be deployed on short notice in the most adverse conditions.
Limited visibility, strong sea currents, deteriorating tropical weather patterns, and frequent changes to vessel cargo operations are just some of the routine challenges we face daily, all without compromising results.
Not sure what maintenance your vessel needs?
Contact Us For A Zero Cost Recommendation & Fleet Pricing Today!
Thai Subsea Services' head office is located in Pattaya, Thailand, near the largest deep-water port in the country. Our fantastic services are available nationwide, from the most frequented, to the more out-of reach approaches Bangkok, Laem Chabang, Koh Si Chang, Sri Racha, Sattahip, Map Ta Phut, Rayong, Ranong, Phuket, Songkhla, and more!
Surveys and Inspections :
Shaft Wear-Down Measurements 
 Coating and Fouling Inspections
Sale and Purchase Inspections
Maintenance :
"Niche" Cleanings to Australia and New Zealand Requirements
Sea Chest, Rope Guard, and Grating Clearings
Underwater Hull Maintenance and Repairs
Rudder Drain Plug Replacements
Sacrificial and
ICCP Anode Replacements
Bespoke Underwater Welding