A good subsea service provider should be able to provide a wide range of services, such as underwater welding, hull inspection and cleaning, propeller polishing, biofouling assessments, transducer change-outs, underwater ship repairs like leak management, rope guard installations, and much more.
Here's what you should look for when choosing your next subsea services provider:
State-of-the-art Equipment
It's necessary for a subsea provider to have the appropriate equipment to carry out their services. Go for a subsea service provider with the most state-of-the-art machinery and equipment since there's a greater chance for better work to be conducted and a lesser chance of damage to your assets.
Important equipment includes commercial diving gear recognized to the highest standards along with items like CCTV and HD camera systems, and name-brand underwater cleaning and welding equipment.
Reliable and Trustworthy
Ideally, your subsea service provider should comply with all the international standards and hold as many certifications and accreditations as possible. This will help prove that they're reliable and trustworthy and competent, putting you at ease. You should check for testimonials and reviews and get in touch with their team so that you know exactly how qualified they are to deal with your vessel.
Qualified Team of Divers
A good subsea service provider must have a qualified team of professional and certified commercial divers. Competent commercial divers are necessary to perform routine class inspections as well as more technical maintenance and repairs of your ship. They should have the ability to identify problems like leaks, cracks, and damage and provide you with on-site solutions.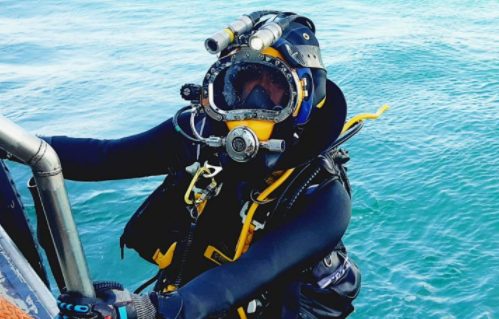 Moreover, a qualified team of divers can also perform many other required tasks. Hull cleaning, for example, requires specialized techniques and equipment to ensure that no damage is done to the hull of your ship while cleaning. Commercial divers also perform potentially dangerous and but necessary tasks, such as underwater welding. These tasks require a level of skill and precision, and can only be performed by a team of highly experienced professional divers. If performed incorrectly, it may become costly for you— which is why it's important to choose the right subsea services provider from the start!
Thai Subsea Services provides specialized equipment, knowledge and trained personnel, and can operate on any vessel.
If you've got a vessel that needs cleaning or repair, you've come to the right place. Thai Subsea Services provides the finest hull cleaning services in all of Thailand. We do complete underwater hull inspections, offer rope guard and grating clearing, underwater welding services, and much more. As one of the most trusted commercial diving companies in the nation, you can trust your ship with us!
Get in touch with us at +66 993459494 or email us at sales@thaisubsea.com for more info.